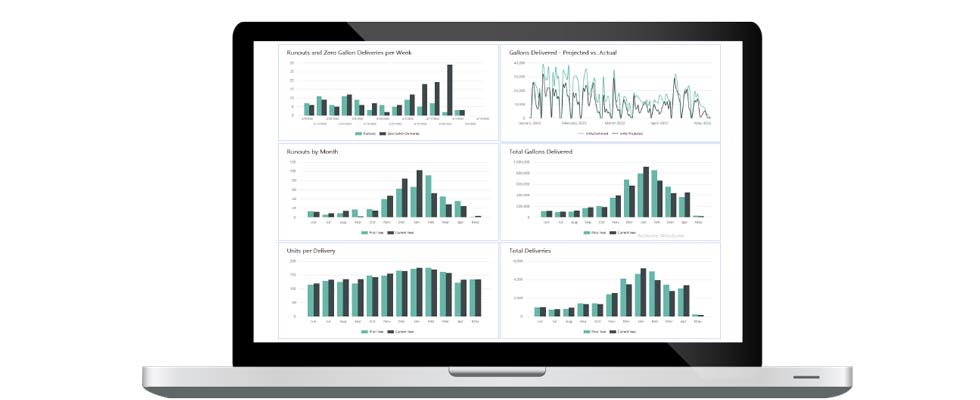 Summer Tech Opportunities and the Path to Smoother Business Processes
Summer means different things to different propane companies. This could be the start of a slack period as the heating season draws to a close. It may also mark a significant shift to recreational use and, in some areas, an increase in activity due to summer vacation rentals.
But in most cases, summer changes mean harder to predict deliveries and a slower period with weather that can be used for reflection. Fortunately, technology helps businesses manage change successfully and gives marketers the ability to set themselves up for success during peak times. This summer shift itself is nothing new, but propane company summer projects have gained more attention than ever since the pandemic. During the summer of 2020, one of the most common comments from propane retailers was, "We thought things were going to slow down this summer, but we're busier than ever!" COVID-19 was a disruption to say the least, but the industry was determined to rise to the challenge. This means that business process improvement has become a year-round effort.
Summer Challenge: Less Predictable Deliveries
The most obvious change brought about by summer is the shift from primary heat use to cooking, cleaning and recreational use. It could be rephrased as a shift from predictable to less predictable use, and that's a challenge for efficiency. The goal is to deliver more gallons while driving fewer miles, but unpredictable deliveries make that difficult. Technology can help close this potential summer efficiency gap in two main ways: maintaining accurate delivery forecasts and communicating with customers. Technology can help solve both of these problems.
The back-office software makes it possible to forecast customer usage, even in summer. However, recreational use can be difficult to predict, and home use without heating can be just as difficult at a time when many people are going on vacation. Delivery scheduling systems will continue to predict usage based on that customer's non-thermal parameters and call attention to delivery exceptions, such as deliveries outside of the ideal range, zero gallon deliveries, and stock-outs. However, back-office software can also automatically communicate with tank monitors.
To deal with the unpredictability, retailers may choose to install them to ensure no disruption, and customers are often willing to pay for the service to avoid disruption. As a backup, the back-office software can not only collect tank readings and pull tickets based on the readings, but the next delivery date can continue to be predicted so that if a tank monitor fails , the system will always pull a ticket based on the usage pattern.
Of course, tank monitors cost money, and not every account will want one or have a use that justifies the associated cost to a propane retailer. For this, technology can help in another way: by making it easier to send emails or text messages to the customer to help meet the delivery deadline. For example, all customers due for delivery next week may receive an email asking them to read their tank gauge. The next delivery date may be adjusted based on responses. The same can be done when a delivery truck will be in a specific area. Retailers can email customers in the area asking them to read their tank gauge. People don't want to run out of fuel, so they have an incentive to help increase delivery efficiency.
For accounts depleted due to unpredictable summer usage, email them in an instant and recommend a tank monitor. Or email anyone who uses propane to heat a pool or cook on their built-in propane grill. The possibilities for proactive communication are endless. Modern back office systems can have all of these communication tools configured and ready to use as part of the normal summer process.
Service planning
What about after-sales service? Summer is the time to schedule cleanings. Back-office scheduling software can help make this easier and more organized. Use it to schedule cleanings around other HVAC jobs, and let it suggest the most efficient schedule based on areas, technical skills and job duration.
Service was once seen as an unprofitable necessity, but today technology can change that with effective planning and dispatching and a clear view of profitability with analytics reporting.
Automatic analysis gives a clear picture
Perhaps the easiest technology to implement over the summer is business intelligence reporting, and it can come in handy any time of the year. Implementation does not require any process changes, but rather gives a more accurate view of operations to aid in decision-making. A dashboard of the most important Key Performance Indicators (KPIs) gives management a real-time window and can be automatically emailed on a predefined schedule. And that's not the only thing that can be emailed automatically; any exceptions to the norm – like burnouts – can be alerts sent automatically via email. The unpredictability of summer usage can be mitigated with business intelligence (BI) reports that allow management to identify and correct problems as quickly and efficiently as possible.
A chance to use technology to improve
These are just a few of the ways technological processes may change to adapt to the summer landscape, but summer is also a time to prepare for the upcoming busy winter season. Now is the time to take stock and improve — and technology can help.
Take delivery efficiency to the next level
As stated earlier, more efficient deliveries are paramount. Throughout the year, back-office software helps improve delivery efficiency, but now is the time to take an even closer look. Are the tanks in the field properly sized, or can some be swapped out to make fewer bigger drops? Every drop saved means more profit, and a back-office solution can signal those opportunities. Are the routes efficient? Simply put, the goal is to drive fewer miles and deliver more gallons. Do the delivery zones need to be adjusted? Maybe they were set up years ago and subsequent acquisitions have further complicated them. It might be time to change areas, and back-office reports can help with decision-making. A summer downturn can be the perfect time for a project like this.
Consider additional technologies that can help you gain efficiencies during peak periods. In the same way that tank monitors can help customers who have unpredictable summer use, monitors can help the most valuable customers. It is a quick and easy technology addition that can improve efficiency and profitability and keep valued customers happy.
How about adding mobile delivery IT that fully interfaces with back-office software? With efficient communication between drivers and dispatchers, step-by-step instructions, greater accuracy, information at drivers' fingertips, and faster payment turnaround, it's a guaranteed path to greater efficiency. It also enables a better customer experience with real-time text and email communication, real-time information for customer service representatives (CSRs), and real-time information on a web portal.
Solidify the service as a profit center
Effective scheduling, as mentioned earlier, is an important part of a profitable service department, but a powerful dispatch monitor and mobile technology in the hands of your technician can take your department to the next level. Jobs can be completed faster with the full account history in the hands of the technician. Streamlined communication between dispatcher and technicians saves a tremendous amount of time, and accurate billing and reduced payment times lead to greater profitability and happier customers. Back-office software can bring out service opportunities. Break-even analysis and a KPI dashboard with drill-down capability can help identify unprofitable work so it can be resolved. BI reports can easily turn your data and activities into actionable insights.
Exceed customer communication expectations
With every increase in the use of technology comes an increased ability to communicate well with customers, and this is an important expectation today. The addition of mobile technology for drivers and technicians enables automatic and rapid communication with customers. Messages such as "your technician will arrive in 30 minutes" or "your delivery has just been made" help improve the customer experience, and in peak times, this level of communication cannot occur without the automation made possible. by technology. It is a differentiator that will please customers and attract new ones.
Now is the time to think about communications with customers and set up automatic SMS and emails so they are ready during busier times. Over the summer, offer special incentives to customers to encourage them to update their email and cell phone numbers. Ask CSRs, drivers and technicians to also request updates. Then set up standard communications to use now and throughout the year, including delivery, service, and payment notifications. Also plan messaging programs to win customers, such as incentives to refer a friend or incentives to upgrade to auto-ship. There are endless possibilities.
Let customers do it themselves
Self-service options are an expectation today. When linked with back-office software, a portal has the ability to save office staff tremendous time and enables growth. Opening a new account, requesting a delivery or service, setting up a budget schedule, and paying can all be done without CSR involvement. It reduces phone calls while increasing the level of customer support.
Summer brings changes to propane retailer operations, but back-office software is here to help. From different types of usage to overall process improvement, the real message here is that there is always more to be done with technology. With the analytical tools that technology brings, companies can identify areas that need attention and then use those tools to better address them. Start exploring today.