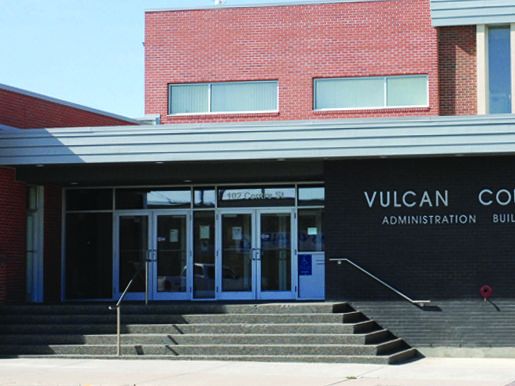 County Council holds public hearing on rezoning application for proposed data processing project
Content of the article
Vulcan County Councilors learned on June 1 that a developer was planning to clean up a site northwest of Mossleigh as part of a proposed data processing project and that neighboring landowners wanted the rezoning application be refused.
Content of the article
Camarico Land and Development Corp has requested the rezoning of land in northwest Vulcan County, where Highway 24 and Township Road 212 intersect, to rural industrial areas from general rural areas.
Council held a public hearing on June 1 for the proposed rezoning.
Camarico had previously attempted to build a large cannabis production facility on the land, but it was unsuccessful. As part of this project, the site has been stripped and earthworks have been partially completed, county development officer Alena Matlock wrote in a report.
Matlock noted at the public hearing that nearby landowners are against the proposed project, and their concerns are many and include the weed control issues of the previous project that have not been resolved, the problems of ongoing soil erosion, the potential for increased fire hazard due to the addition of electrical infrastructure, and possible increased noise due to air conditioning units to cool servers.
Mackenzie Loree, representing Camarico Land and Development, said the project was specifically identified for the site to "essentially address existing issues that the site has been having since the previous project." He admitted during the hearing that the site is currently in a "horrible" state.
"Taking into account (the landowners) and their issues with our previous project, we specifically designed this development to mitigate odors, noise, light pollution, as well as sound," he said.
Content of the article
Camarico wants to build a pilot plant as the first phase of development to pitch the project, Loree said.
"It's no lie that the first draft didn't go as planned," he told the board. "But my family owns the land, so at the end of the day I want this cleaned up as much as you and just as much (the landowners) do. But I also want to put this site in a positive cash position which is a benefit to the community, obviously for me and my shareholders (as well), and also add potential employment opportunities as well as a diversified tax base for the county of Vulcan."
Camarico believes the site will be "a good fit for the area and should not be a nuisance once construction is complete".
said Loree.
Landowner Dale Malmberg said no effort had been made to minimize "trespassing" on neighboring property owners since previous construction began.
The blowing dust caused safety issues for drivers, especially at the intersection of Highway 24 and Township Road 212, as local traffic avoided the intersection on windy days, a- he declared.
"The problem has been replaced by the main problem we face today, which is weeds, especially broom kochia and tumbleweeds blowing over nearby farmland," Malmberg said.
Landowner Owen Malmberg said no goodwill had been shown by Camarico since earthworks were completed for the previous project.
"In the years we have dealt with Camarico, they have shown no evidence of respect for the land, the neighbors, the community, Vulcan County or its employees," he said during the interview. hearing.
Content of the article
Before considering any other Camarico projects, Malmberg asked Vulcan County to have the company "clean up the mess it has created."
Responding to landowner concerns, Loree said Camarico had taken the issues "to heart" when planning the development.
"The point of rezoning is to at least advance a plan on the whole project," he said. "The goal of phase one is to build a pilot project as a showcase to show the county and (landowners) what we are actually building and what we plan to develop."
As part of Phase 1 of the project, Camarico plans to clean up the site, Loree said.
"We plan to attend to and remedy any issues that have been raised by neighbours," he said.
Phase 1 will not be a "major cash-generating vehicle" but will allow Camarico to receive a capital injection from its backer, he said.
"I have funding to do phase one and all the things I need to do, but I actually need to have zoning and a development permit to activate my funding," Loree said, adding that he could share so confidential these funding agreements with Vulcan County.
Loree said that as it is his land he has to clean up the site somehow, but he prefers to clean it up in a "reasonable fashion" that allows him to recoup some costs and offers also "an economic benefit to everyone".
"There are quite a few applications in data processing as a general category that we could apply to this site," he said. "And basically what we need from the site is space and power."
If Camarico doesn't get approval for the project, Loree said he "should do something else with the site."
That would likely mean a project that falls within what's allowed in the current zoning — general rural — on the land, he said. Loree added that he didn't know what that project might be.
Camarico's rezoning application is expected to be discussed again at the June 15 council meeting, and council could decide at the meeting to give the rezoning bylaw its second and third readings.